Alongside tulips and cheese, there's weed and prostitutes to be had in Amsterdam. Unfortunately, the vast majority of the prostitutes were of the wrong gender for me, it's out of season for tulips, and I'm not a big fan of cheese, so I was left with weed. So much gange, marijuana, you give it a name, it's legal there.
It all began Wednesday after work. What a to-do list! I had to get to Shaun's and water some beetroot, and then to the allotment to water a great array of growing crops, and then to Hilsea train station to pick up Jackie, her son Ryan, and his girlfriend Sam. And then to Luton.
We made good time. The M25 wasn't a car park. We didn't die. After a roast at the Toby Carvery in Hemel Hempstead, we got to the hotel around 9pm.
The Pines. It was very nice. It had a slide in the beer garden that only Jackie and I went on, although more me. For the youngsters, such regression was beneath them. Personally, I love a little park like that. If it had had a swing I would've been on that too!
We were at The Pines for 6 hours because I thought it a better idea to travel up after work rather than have to do it in the wee hours of the morning. At least we'd all get a little sleep. More me. At least I'd sleep.
At 03:20 on Thursday, I awoke to a very relieved Jackie because she'd been trying to wake me for 20 minutes. I thought her over-reacting because I was up. Quite clearly up. Grumpy, too.
Shortly thereafter, we bundled into the car. I drove the short way to Luton Airport and parked up. We got ourselves through Security. I got pulled over and my hand luggage got checked because, I like to think, I'm so irresistible to look out that they just have to keep me nearby a little while longer.
Luton Airport is getting a bit of a spritz so it might be nicer than its current ongoing construction work.
We didn't need to wait long before it was time to board our flight. I descended into my flight routine: settle in my seat. Check the safety card. Baulk at the price of their tea, remember that they never actually clean where they store the water, decide to have one anyway. Start reading my book. Look up at the safety demonstration. Continue reading right through takeoff. Bliss.
Oh, I do love to fly.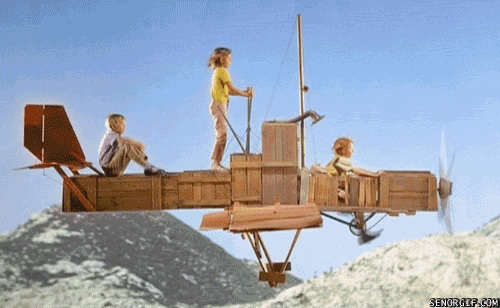 AMSTERDAM, HERE WE COME!
Upon landing in Schipol, our little group's presence got known. I'm not really certain what got everyone pushing each other's buttons (they each had a different incentive) but it was quite a show. This business-savvy mind of mine thought to charge spectators, 4 days later.
Leaving the cries of "ENCORE!" behind, we were soon through the airport and on a train heading into the city. By the time we got there it was 10 in the morning and we had until 3 before we could check into our hotel.
There is a saying, 'When in Rome…'
Rather quickly, and rather unfairly, I got the nickname Two Toke Tom when it took 4 to 6 tokes before I'd had enough. "I'll just put that down there, right here — hmm? Who are you? Mellow."
Soon enough, after a quick walk around the Red Light District to see the lunchtime shift, we caught a ferry over to our hotel.
The Botel. It's a big barge with rooms in it. Reasonably priced. Think Travel Lodge but on a river, and a little more exotic because it isn't in Britain. The public areas were nicely attired but our rooms could've done with a lick of paint. A bit of a freshen up, they were just a bit dated. They met needs and the bed was comfortable.
After a little snooze, we headed back into Amsterdam and I'm not certain what we did. We did go to the Red Light District during the evening and we nearly drowned in the sea of bikes. We saw a boat race of litter-pickers, and stoners, and cheese fanatics, and a dildo with the girth of a Sainsbury's 1-litre bottle of still water, maybe a little bigger. It was eye-watering to look at.
On Saturday, Sam and Jackie had booked us all to go on a swing. This swing was 100 meters up and it swung off a building. Apparently, there was a real psychedelic light show in the lift on the way up. To be honest, unimpressed — it was a lot like Vegas, light bulbs. Let me just stand here and applaud because you can make them change colour and flash.
The view over the city was incredible. I stayed a sensible distance back from the edge. I can see perfectly clearly right here, in the centre. Needless to say, I didn't go on the swing.  Neither did Ryan, but I think he chickened out because he's got an aversion to slides and such.
I chickened out because I couldn't reach the little gate to get onto the swing. It was just those couple of toe-holes too far away.
Once safely back down on the ground, Jackie and I ditched the youngsters and went on an epic walk around the city centre. We crossed canals, dodged bikes, and got waylaid by all the crooked buildings. Some of them are soon to topple, I'm sure.
After getting back to the Botel, we had every intention of going back into Amsterdam and doing the last canal cruise. Our evening didn't quite pan out like that but it was still pleasant.
Although quite industrial, and with constant boat-traffic, the river is peaceful. I did find it intriguing that every boat seemed to have a car on it. A gas barge? Car on the roof. A container-barge? Car up front. A random boat? Car someplace. It's just not what you see coming in and out of Portsmouth Harbour, unless it's a ferry.
Our flight home was at 1855 on Saturday, and after checking out of the Botel at 11, we did some souvenir shopping and split up for a little while. I headed on a little jolly that saw me end up with an Earl Grey in one hand, my book in the other, and the river only a foot away.
It didn't take us long to get back to Schipol by train. Once there, I got pulled over at Security and my hand luggage got checked because I'm irresistable. I probably wouldn't have minded so much if the security man had just got down to business, but no. Chat, chat, chat, and then he lost my place in my book. That got my nose out of joint. I knew where I was but that was never the point. The man ripped out my bookmark for the sake of it. He didn't even open the book.
There was no tea to be had on our flight home because an American had partaken in too much gange and not enough sustenance, and passed out on the floor. Suprising, I thought. As a trained Red Cross First Aider, I would've offered my services had there not been 3 doctors on board. I might've more quickly deduced the cause, though, because these doctors were more concerned with more serious ailments. After a drink and something to eat he declared himself fine, and that's when 2 of them clicked. The third remained oblivious throughout.
Once landed, I had to drive us all home.
We didn't die. I did cut someone up, though, and Jackie feared once that I wasn't in control. There was a tight bend coming up and she didn't think I'd slow. I did slow. Plenty of time. Chill out, lass.
Back in Portsmouth, upon some atrocious directions, I stopped the car and kicked the youngsters out. I dropped Jackie off and then dropped myself home.
Sunday doesn't feel like it happened.