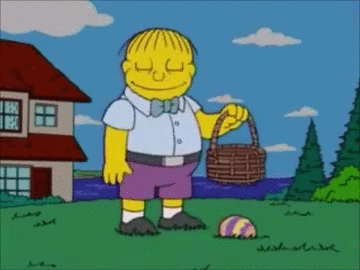 Myles is now of the age to enjoy a good egg hunt. He loves them so much that he needs to partake in lots and lots of egg hunts. It's an unofficial count of 40 on Easter Sunday — it would've been an official count but I forgot to count. The hardest part was finding new places because, as you can probably imagine, all the toddler friendly hiding places get used up pretty quick. Plus, it wasn't only I enlisted to hide eggs. The kid is a good motivator. Possible career path…
In time, Myles will have practiced his hiding skills enough so he's no longer hiding everything in the same place when it's his turn, but spreading them out. And I'm sure he'll soon stop pointing out where he's hidden them, too.
The dude had fun, though, and that's all that matters.
His mum rustled up a slap-up lamb roast. Lol, 'rustle' like as if cooking for 9 is easy! And it was a wonderful afternoon with friends.
In other news, I had a meal out with Jackie, caught up with the washing, and woke this morning with vertigo.
It's amazing how a 4 day weekend can go just as quickly as a regular one, if not quicker!
---
This weekend also saw the third year since my cousin died go by as if the date means nothing to the calendar. I suppose it's only us who knew him who give the 31st its significance.