I need somebody with a human touch. 
Hey you! Always on the run. You've got to slow it down baby. Gotta have some fu-un…
And I must confess, doing an emergency stop is quite the adrenaline rush!
Reg put his hand out, said: "Stop!" So I stopped. Foot on the brake, feeling the ABS pump, smelling rubber.
The aim was to headbutt the windshield, sort of. Not physically headbutt it but near enough.
After that, we drove around. I didn't speed so that's an improvement on last week.
THERE ARE ONLY 5 WEEKS TO GO TO MY TEST!!
Which means
ONLY 5 WEEKS 'TIL I PASS!!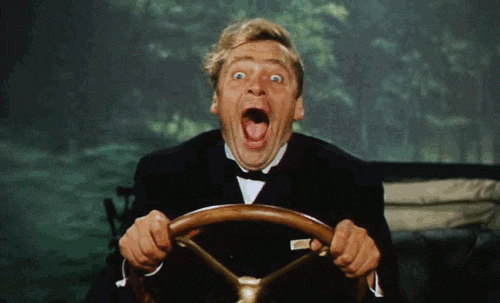 (Hopefully)
If today had been my test then I might've passed, Reg said.
Last week it was an outright fail because of the speeding so I'm heading in the right direction.
Reg asked if I wanted him sat in the back while I'm taking my test.
Personally, don't care. But I figure, should I fail, if he's sat in the back, I ain't gotta reiterate crap 'cause he was there.
I would much prefer passing, though. In that case, he'd be my first backseat passenger.
Let's not think about this test today. It makes my tummy feel funny.