Pull up parallel to a parked car.
Put in reverse and indicate.
Do checks.
Ease back slowly slowly until the back triangle window is passed the parked car.
One full turn left.
Slowly slowly until the front of the car is roughly at the 2 o'clock of a clock position.
One full turn right.
Slowly slowly until the door handle is a 'foot over the curb' in the mirror.
One full turn left.
Slowly slowly until you're near the curb.
One full turn right to straighten up.
Done!
I did alright. I ended up a foot away from the curb every single time. Nothing like consistency.
Afterwards, we took a drive around Portsmouth and it was busy. We went up North End, around Fratton, down residential streets, and got made the focus of road rage.
By the high-class mansions that skirt Fratton, the 70s concrete castles, Mr BMW was in a rush to get home.
We were on the main road at a red light and I was stopped keeping a junction clear.
Mr BMW was a bit like this,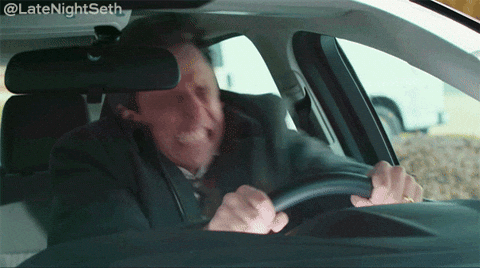 He then pulled onto the curb to pass us, honking his horn, and gesticulating wildly.
I was keeping the junction clear, which had a big KEEP CLEAR written all over it, and so he could pop as many veins as he liked.
Reg didn't take kindly to Mr BMW. He's such an unassuming man and seeing him do the classic attitude WHAT?! gesticulations was quite funny.