Due to Christmas, New Year and illnesses, there's been some delay between driving lessons.
Due to going to the pub and a slight hangover, there's been some delay in writing this post.
At 1pm yesterday, Reg picked me up from work!!!
YAY!!!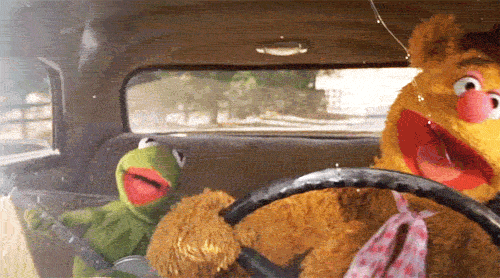 He wanted me to drive and get used to being behind the wheel again. I wanted to do roundabouts. And so off we went.
Shaun and a few of my colleagues lined the street to give, erm, encouragement? Reg thought it all utterly hilarious. I ignored them.
I undercut my first right turn, luckily there wasn't another car there. I hesitated at the first mini roundabout and then the bigger one because they're right next to each other.
I had a clear drive through the third much bigger roundabout, sort of.
On the fourth roundabout, I saw a gap and I went for it.
45 minutes later it was like I'd never had a break from lessons.
If anything, the break did me good because yesterday I was doing things I wasn't before. I remembered that left mirror. I held a better position on the road. I didn't get flustered, which, considering everywhere we went was busy, is confidence.
Depending on how yesterday's lesson went decided if I was going to book my test.
I'm on the website but I need to get my wallet. I can see it but I just can't reach it. I need to muster the energy to move.